about Gumboot
Gumboot Productions is a Canadian film and television production company located in Victoria, Canada. Since 1991, the company has developed a strong reputation for story-telling excellence within the national and international broadcast and educational communities.
Owned and operated by award-winning documentary filmmaker and cinematographer Peter Campbell, Gumboot Productions develops and produces documentary and educational films, and actively participates in co-productions.
Gumboot Productions
peter@gumbootproductions.ca
1226 Camas Court, Victoria, BC, Canada V8X 4R1
selected features
Finding Heart
The National Centre for Truth and Reconciliation (NCTR) and Gumboot Productions are excited to announce the release of an educational film for the Canadian Middle School curriculum. Finding Heart highlights the inspirational actions of Dr. Peter Henderson Bryce. In 1907 he travelled to Indian Residential Schools on the Prairies and discovered a shockingly high rate of mortality amongst children. Producers Peter Campbell and Andy Bryce, great-grandson of Dr. Peter H. Bryce, and the NCTR look forward to sharing this inspiring and engaging educational resource.
Take My Advice, I Can't
Take My Advice, I Can't is the story of a motivational speaker who lost his motivation. He writes a self-help book that becomes a surprise best seller in the Republic of Korea.
Yes, MAM! — Young Engaged Students present Men Against Mysogeny
In partnership with The Inter-Cultural Association of Greater Victoria (ICA), Gumboot and a team of high school students produced 11 short video's on topics relating to sexism, sexualized violence towards women, consent, and the role young men must play in affecting social change.
Killer Whale and Crocodile
In Killer Whale and Crocodile, carvers from two of the world's great carving traditions come together. A First Nations carver from Canada travels into the jungles of Papua New Guinea and a New Guinea carver travels to urban Canada.
My Son the Pornographer
Against the backdrop of the pornography industry in Prague, My Son the Pornographer tells the story about the stresses and strains that tear families apart, about values and ultimately about the love between a father and a son.
Kuper Island:
Return to the Healing Circle
Former students of the Kuper Island Indian Residential School, whose minds, bodies and spirits bear the scars of systematic abuse, speak out in an effort to end the code of silence.
Cherry Kingsley: Recognizing the Person
Cherry Kingsley takes us on a journey through her youth spent in prostitution and drug addiction, to receiving the Governor General's award as an international spokesperson for the rights of children.
Speaking Out: Women of Uganda
In a country combating poverty, disease, corruption and civil war, Speaking Out: Women of Uganda reveals significant developments in gender equity and the ongoing challenges.
The Great Night of Shiva
The Great Night of Shiva juxtaposes ancient dance mythology with NASA cosmology to tell the story of the annual, nightlong celebration of the Hindu deity, Shiva the Destroyer.
for education
The Joy of Learning: K and Grade 1
Gumboot is currently involved in projects with the Intercultural Association and St. Michaels University School, where The Joy of Learning series has recently been completed.
in post-production
Finding Peter Bryce
A one hour documentary which uncovers the vision and compassion of a man who pioneered the public health and social policy movements in Canada, and, in 1907, blew the whistle on the abhorrent conditions in Indian Residential Schools.
Shore to Shore
Shore to Shore is about the remarkable and little known story of Portuguese Joe Silvey and his life with the Coast Salish People, the Whalers, immigrants and pioneers who founded the the City of Vancouver.
The film tells the story through the process of the creation and installation of a monumental sculpture in Stanley Park, Vancouver, created by Ladysmith-based master-carver, Luke Marston.
in development
Penelakut — Returning to the Healing Circle
Twenty-five years after the production of the award-wining documentary "Kuper Island", Gumboot, in collaboration with Gamut Productions, looks at the advances and challenges faced by this Island community.
What's in Your Fridge
What's in your Fridge is a Culinary Home Invasion Reality / Comedy series. The series combines random casting, voyeurism, questionable ingredients, Gypsy music and a huge comedic talent to dish up a delicious series. "Remember, It could happen in any neighbourhood at any time."
Frontier Freighter
Frontier Freighter is a reality adventure series for the whole family, roughing it with the crew aboard a nautical time machine — a lifeline to the wildest edges of the Pacific Northwest. A 13-episode, half-hour docu-series.
about Peter Campbell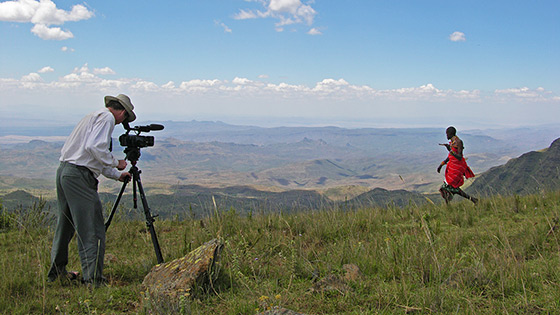 President of Gumboot Productions, Peter Campbell has been a producer and director for 30 years. He has won many awards and citations and has produced, directed and shot films for the CBC, CTV, GLOBAL, VISION, BRAVO!, Knowledge Network and The National Film Board. His films have been shown internationally, and are currently screening in Australia, Brazil, Switzerland and Canada.
In 2005 Peter won a $1,000,0000 pitch contest and went on to produce the film noir feature Lies Like Truth (35mm, 97 minutes). Recent productions include My Son the Pornographer for CBC (Winner Best Director & Best Social-Political Documentary at BC's Leo Awards) and Killer Whale and Crocodile for BRAVO! Television (runner-up, Best Arts Documentary at BC's Leo Awards).
Peter has directed films in Africa (Speaking Out: Women of Uganda), Japan (The Art of Compassion), The Philippines (Fuga Island), Kenya (UNEP), Papua New Guinea (Killer Whale and Crocodile), Germany (The Art of Peacekeeping) and Haiti (Heart to Heart). He has also been on the jury for the Gemini Awards, Leo Awards, Yorkton Film Festival, AMPIA, VIFPA and the BC Arts Council; is a founding member of the Victoria Film Professionals Association and the Gulf Islands Film and Television School; and lectures at the University of Victoria and Camosun College. Peter also collaborated with the Sierra Club of Canada on the Youth in Media project. During time off, he kayaks, plays in a rock and roll band, enjoys photography and spends as much time as possible with his grandchildren.
Peter is available as a freelance cinematographer, director or producer and consults on developing film and television programs.
A brief profile of Peter is featured on the Rocketday Arts website.